Satellite TV
DirecTV
Dish Network
FTA
C/Ku Band
CB Radios
Ham Radios
Antennas
TV
CB
Ham
Scanners
About Us
Contact Us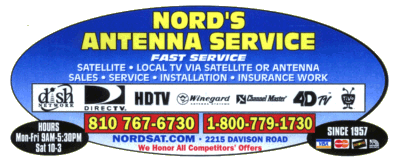 Family owned since 1957
Don't call those 800#s found in the Yellow Pages, newpaper advertisements, mail flyers, etc... those are national companies that could care less about you once the sale is made and are next to impossible to get any after-sale support.

Worse yet, you will most likely not get a professional installation from these companies.

With Nord's as your local dealer, you will get a profressional installation, you are a customer for life and can always reach us for support.